6.1 Kick-Out Flashing
Whenever a roof surface abuts a vertical wall surface, moisture intrusion and rot become a risk at the connection between the two planes.
Kick-out flashing, a somewhat forgotten practice except by the best roofers, addresses this risk at the most vulnerable intersection between sloped roofs and walls: the drip edge.
Be sure to leave space between the end of the fascia and the wall where FastFlash, WRB, and siding can slide up.
Install FastFlash along the wall at the roof edge.
Stick top edge of transition strip membrane to FastFlash.
Bead and tool FastFlash to the top edge of transition strip.
Peel and Stick along the edge of the roof and lap over top of fascia.
Install Peel and Stick the entire length of the roof-to-wall intersection.
Attach roofing felt. Extend 4" up the wall.
Nail on starter strip of roofing material.
Kick Flashing Guide
Note: All Kick-Out Flashing fabricated on site must have welded seams.
Fasten kick flashing in upper right corner.
Install first course of shingles.
Step Flashing Guide
Note: Align with top edge of shingle course.
Fasten stepped flashing.
2" minimum overlap with preceding piece of flashing. Top of flashing piece should align with top of shingle course.
Continue alternating shingle course and stepped flashing until the roof is complete.
Install Peel and Stick over the stepped flashing.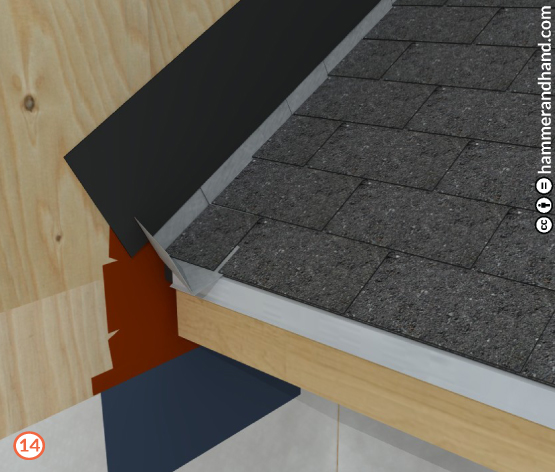 Slip WRB as high and tight as possible under the transition strip membrane.
Continue layering WRB up to the top of the wall.
4" minimum overlap between sheets.
Install siding.
Allow for a 2" clearance between bottom of siding and roofing material to avoid water damage.
Install gutter under drip edge.
---

Hammer & Hand's Best Practices Manual is covered by a Creative Commons license that allows for redistribution, commercial and non-commercial, as long as content is passed along unchanged and in whole, with credit to Hammer & Hand. If any piece is shared online, it is required to credit Hammer & Hand and include a link to the relevant source page at https://hammerandhand.com/best-practices/manual/.
Save