7.1 Basements: New Construction
In addition to structural integrity, we need to address two priorities when constructing new basements: moisture protection and thermal control. With new construction, we have the luxury of installing our moisture management layers outboard of the foundation wall. Our preferred method uses a fluid-applied elastomeric membrane applied directly to the exterior face of concrete followed by a drainage mat with integrated filter fabric. Water in the soils adjacent to the foundation wall can then drain down to a drainage pipe installed in a bed of gravel next to the foundation wall footing.
A bentonite waterstop laid atop a capillary break on the footing inhibits moisture movement through the cold joint between foundation footing and foundation wall. To limit heat, air, and moisture transmission we use low or medium density spray foam insulation in a stud wall (or, alternatively, a continuous layer of EPS against the concrete wall combined with blown-in insulation in a stud wall immediately inboard of that EPS). The concrete slab sits on 2-6" of rigid insulation with a perimeter thermal break and is then topped with a soil-barrier membrane, completing the basement's thermal and moisture isolation from the earth.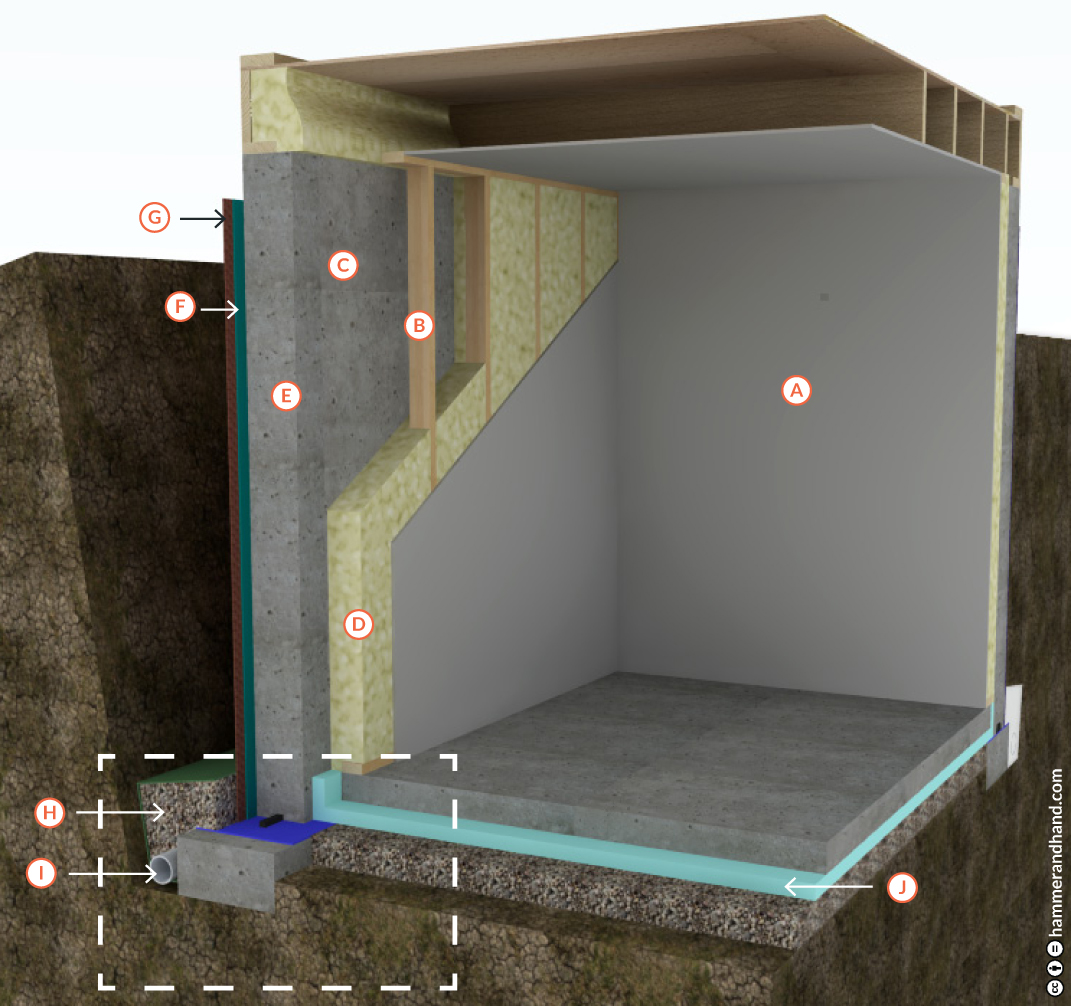 A. DRYWALL
B. 2X4 STUD WALL
C. 1- 2 1/2" GAP BETWEEN STUD WALL  AND FOUNDATION WALL
D. LOW OR MEDIUM DENSITY SPRAY FOAM INSIDE AND BEHIND STUD WALL
E. FOUNDATION WALL
F. FLUID APPLIED ELASTOMERIC MEMBRANE
G. DIMPLED DRAINAGE MEMBRANE WITH GEOTEXTILE FABRIC
H. MINIMUM 4" LAYER WASHED AND CLEANED (NO FINES) CRUSHED STONE OR GRAVEL
I. 4" DRAINAGE PIPE, HOLES DOWN
J. 2-4" RIGID INSULATION
K. NOT SHOWN: IF RIGID FOAM INSULATION IS USED ON AN EXTERIOR WALL, PROTECT THE TOP WITH A COATING OR PROTECTION BOARD. BELOW GRADE, PLACE INSULATION BETWEEN DIMPLE DRAINAGE MAT AND ELASTOMERIC WATERPROOF MEMBRANE. FOAM MUST BE PROTECTED WITH DURABLE FINISH WHEN EXTENDED ABOVE GRADE.
New Construction Close Up
A. HEAVY DUTY GEOTEXTILE FILTER FABRIC
B. WASHED GRAVEL FILL
C. 4" DRAINAGE PIPE, HOLES DOWN. ALWAYS LOCATE BELOW BOTTOM OF SLAB.
D. FOOTING
E. DIMPLED DRAINAGE MEMBRANE WITH GEOTEXTILE FABRIC
F. FLUID APPLIED ELASTOMERIC WATERPROOF MEMBRANE
G. EXPANDING JOINT WATERSTOP*
*Waterstops should be installed at all joints below grade. Place water stop a minimum of 3" to the exterior surface of the wall.
H. FOUNDATION WALL
I. FLUID APPLIED CAPILLARY BREAK (SEE SECTION 7.2)
J. LOW OR MEDIUM DENSITY FOAM
K. DRYWALL
L. FLOOR SLAB
M. 12 MIL REINFORCED SOIL BARRIER WITH SEALED SEAMS (SEE SECTION 7.3)
N. 2-4" RIGID INSULATION
Note: Utilize pipe cast into footings to interconnect sub-slab drainage zone.
---

Hammer & Hand's Best Practices Manual is covered by a Creative Commons license that allows for redistribution, commercial and non-commercial, as long as content is passed along unchanged and in whole, with credit to Hammer & Hand. If any piece is shared online, it is required to credit Hammer & Hand and include a link to the relevant source page at https://hammerandhand.com/best-practices/manual/.